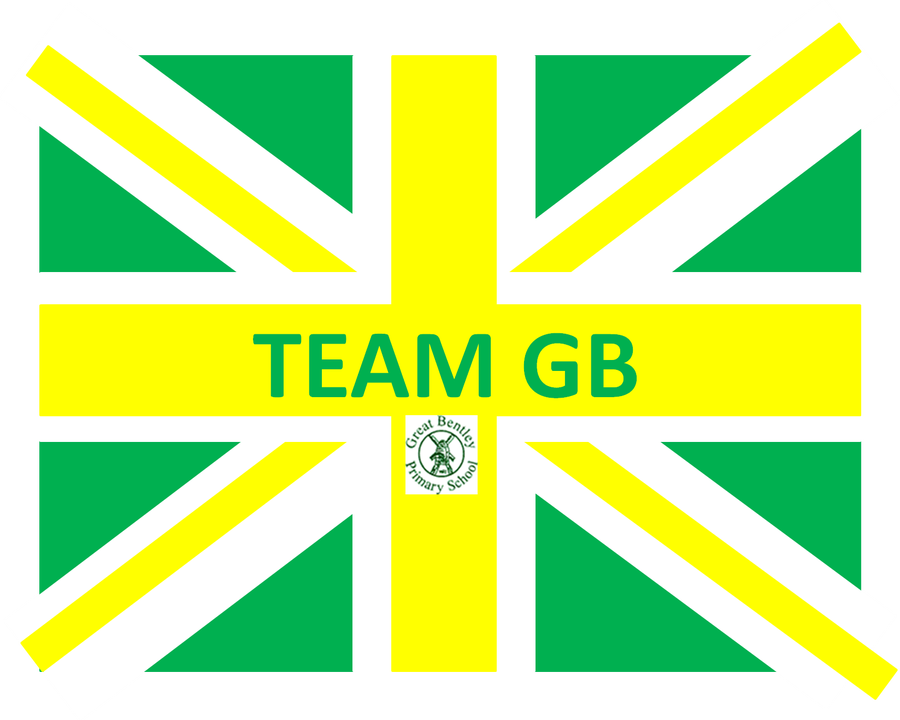 Welcome to the Great Bentley Sport Page - Go Team GB !
Upcoming fixtures and events
Tues 21st Feb - Boys football V Frinton (Away)
Tues 28th Feb - Boys football V Kirby (Away)
Wed 1st March - Netball V Frinton (Away)
Mon 6th March - Boys football V Tendring (Away)
Wed 8th March - Netball V St. Andrews (Away)
Tues 14th March - Girls football V Kirby (Away)
Wed 15th March - Netball V Walton (Away)
Thurs 16th March - Boys football V Walton (Home)
Recent results and events
Indoor Athletics tournament - 8th February
I had a great time out of school with 21 pupils chosen from Year 5 & 6 on Wednesday. We travelled to the Colne School for an Indoor Athletics competition between some of the other Colne feeder primaries. All of the children enjoyed the experience and had a lot of fun competing in relay races, jumping events and throwing events. They represented the school with good behaviour and with fantastic enthusiasm and determination. In the end though, Brightlingsea Junior school won by a distance and we finished 3rd - just 4 points behind Elmstead, and Broomgrove were 4th. A big well done to all of our pupils for their efforts!
Boys football V Engaines (home) cup replay and league fixture - 24th January
We faced Engaines again for a place in the 2nd round of the cup but unfortunately it wasn't to be. The result was a 3-2 win for Engaines in another close game. Just one goal separating the sides over the course of 80 minutes. Our boys played really well and felt they were good enough to get a result, coming close on more than one occasion. Barney and Archie scored our goals with some good skill and team work. We will continue to look for a win in the next fixture.
Boys football V Engaines (away) Clacton schools' cup 1st round - 12th December. 2-2 Draw
Our team travelled away for a tricky first round tie of the cup competition. We dominated possession and lots of chances to score. After finishing the first half 1-1, we took the lead early in the 2nd half and continued to look assured. During the game we also hit the post twice and the bar twice also! However Engaines tucked away a rare chance in the final minute to level the match. Normally a cup tie would go to extra time or penalties to determine a winner but it was too dark at the final whistle to play any further. So watch this space for the date of the replay in January, at home. Mr Bird was really impressed by the quality of the football his team produced and the amount of possession we had. Barney in particular delivered a sparkling performance, well done to him and all the others.
Cross country championship - 8th November
Four girls and four boys from Years 5 & 6 went out in the cold on Tuesday to represent our school in the annual Clacton schools' cross-country championship. Mr Hitchin, who went with them told me that they all put in their best effort and were determined to finish the course in the best possible placings. The course was just under a mile of muddy footpaths, finishing with a gruelling hill climb right at the end. Mr Hitchin also reported that their behaviour was perfect and showed good sportsmanship. We are particularly impressed with and proud of Myles, who finished 6th in the boys's race - a fantastic achievement! There were 13 schools taking part, giving a total of 52 in the boys' race and the same in the girls' race, who are the best runners from across the District. Overall, as a school, we came 7th. They all enjoyed the experience... after they had recovered!
Boys football V Hamford (home) school league match - 15th November. 5-4 Defeat.
In the first school league match of the year, our boys started slowly, going behind to 2 early goals, they managed to turn it around though and went into a deserved 3-2 lead. That wasn't the end of the smart finishing; attacking football continued from both sides and the final score was an incredible 5-4 to Hamford, unfortunately. The boys learnt a lot from it though and can't wait to play again - great spirit!
Netball match V Engaines (home) school league match - 16th November. Winners 9-0.
Our netball team played their first game, against Engaines, which was also a home fixture. They were nervous to begin with and really couldn't believe it when they scored early on and then again soon after! The early goals gave them a lot of confidence and this turned into a great first match. They outclassed the opposition from start to finish and scored 9 goals by the end of the game without conceding any. They rightly felt proud of themselves afterwards and were able to reflect on their brilliant team work. Well done to all of our stars.
Tag-rugby tournament - 24th November
Mr Hitchin took a team, selected from his after-school club, to the annual Clacton school's tournament. They played really well, scoring 15 tries in 3 games. Unfortunately they ended up losing 6-5 twice and drew their final group game 5-5. They were good enough to win every game but were unlucky to run the ball out of play too often. Their teamwork was fantastic, particularly in he way that they supported each other. Edward was a constant attacking threat and Aidan was commanding in defence. Well done to the whole team.
PE Curriculum
PE at Great Bentley Primary School plays a vital part of everyday school life. All pupils have two hours of PE timetabled each week to cover the six main areas of the National Curriculum which are dance, gymnastics, games, athletics, and outdoor and adventurous activities. The 6th area, swimming, is catered for by providing funding from the Government's sport Premium budget to support parents, particularly in Year 3, in paying for swimming tuition at our local public pools. A healthy lifestyle is also promoted in various ways around the school.
Fun, enjoyment, confidence, competence and self esteem are the forefront of our PE delivery. Children in Nursery, Reception and KS1 develop the fundamental skills such as aiming and throwing, balance, co-ordination, control, and movement. In KS2 children are able to use these fundamental skills to develop their knowledge and understanding of invasion games such as football, basketball, netball, tag rugby and hockey. These skills are also transferable to striking and fielding games such as cricket and rounders, together with net games such as tennis and badminton.
Extra Curricular Clubs
We are very proud of the range of extra curricular activities that we have developed over the last few years at Great Bentley. They take place at lunchtime and after school. Parents have the responsibility to ensure that children are collected promptly at the end of club sessions.
We are always looking to increase the number of extra curricular activities that we offer and are open to ideas to improve our provision.
We have run or are running the following clubs this year:
Netball

Football

Tag-rugby

Sewing

Dance

Fun project club

Stomp
The children run a variety of clubs at lunchtime themselves and these change weekly and termly.
We are always looking to develop more clubs so if you have a skill, an interest or a talent that you could share with us please let us know.
Sports Premium
Please click on the link below to view the funding report for 2015-16.