Welcome to Reception
Our topic this term is -
Traditional Tales
Our role play area - The Three Little Pigs House
On this page you will find lots of information about all the fun things we get up to and the learning that takes place.
Please find below an overview of our learning for the term and how you can support your child at home.
Are you reading at home with with your child?
Stuck for ideas of what to read??
Why not try one of these :-)
Happy reading!
Cooking Porridge
Thursday 26th September 2019
Today we had a special package and letter from Goldilocks asking us to help make porridge for the three bears. We had to follow a set of instructions and measure out the oats and milk. We worked as a team to take-turns and check we were measuring correctly. At the end we got to taste the porridge and decide whether we liked it or not. We then attempted to write our names to let Goldilocks know whether we liked the porridge.
Our last day in Reception (2018-2019)
24.7.19
Our trip to Pizza Express
19.6.19
We have had a fantastic morning learning how to make and cook pizzas. First we talked about hygiene and made sure we all washed our hands. Next we put our aprons and hats on. We listened really carefully to chef Nick's instructions and talked about the ingredients that go into a pizza. Then we had to flatten our dough into a pizza base. Some of us even had a go at tossing it into the air! Finally we added the tomato sauce and the cheese. Nick cooked all our pizzas and we got to take them back to school to eat. They were super yummy.
Our Jimmy's Farm trip
9.5.19
Today we went on our first-class school trip to Jimmy's Farm. We got to see lots of different animals such as meerkats, goats, pigs and even a day-old baby reindeer! We got to feed the goats and learn about the first ever pigs on Jimmy's Farm. Although it rained in the afternoon, we attempted to build dens as a team in the woods. We all had a fantastic day even if we did get a bit wet!
Our Spring 2 term topic was
Superheroes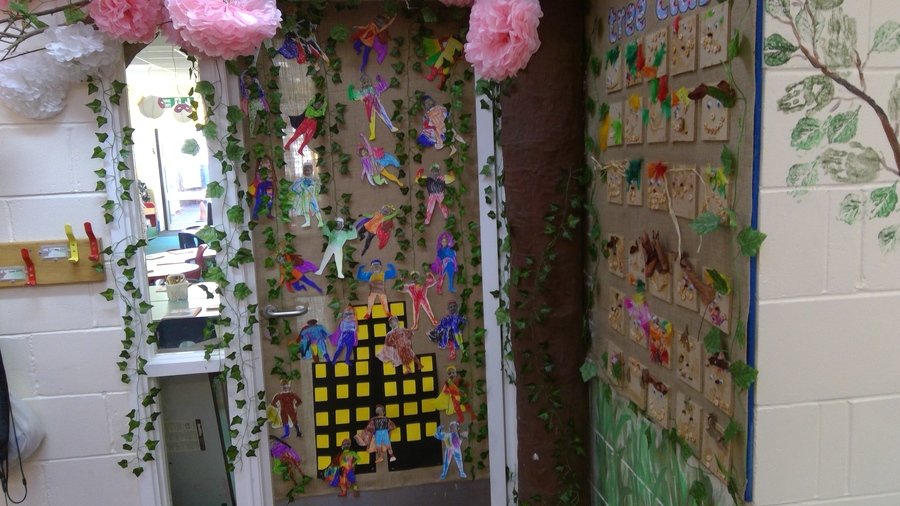 Our Paramedic visit 25.03.19
25.3.19
This week we have been learning about poetry. We have explored our senses and learnt a poem. We put actions to the poem to help us remember it. We have then written our own poem about Spring using our senses. See our poems below.
12.3.19
We have made superhero capes!
Our firefighter visit - Friday 8th March 2019
On Friday 8th March we were very lucky to have some special visitors come into school. Not only did we get to meet Sarah who is an Educational Fire Officer but we also got to meet four fire men and explore a real fire engine! We learnt what firefighters do, what equipment is in a fire engine and even got to sit in the back of it! We had a fantastic afternoon. To end the afternoon we got to try on a firefighter's uniform if we wanted to! What an amazing Friday afternoon.
We have been looking at the book 'Supertato'. We explored the different foods in the book using our senses and wrote about what they smelt and felt like. We all have great fun, espeically putting our hands in the baked beans!
EVIL PEA HAS BEEN UP TO MISCHIEF AT GREAT BENTLEY PRIMARY SCHOOL!
Our Spring 1 term topic was
Dinosaurs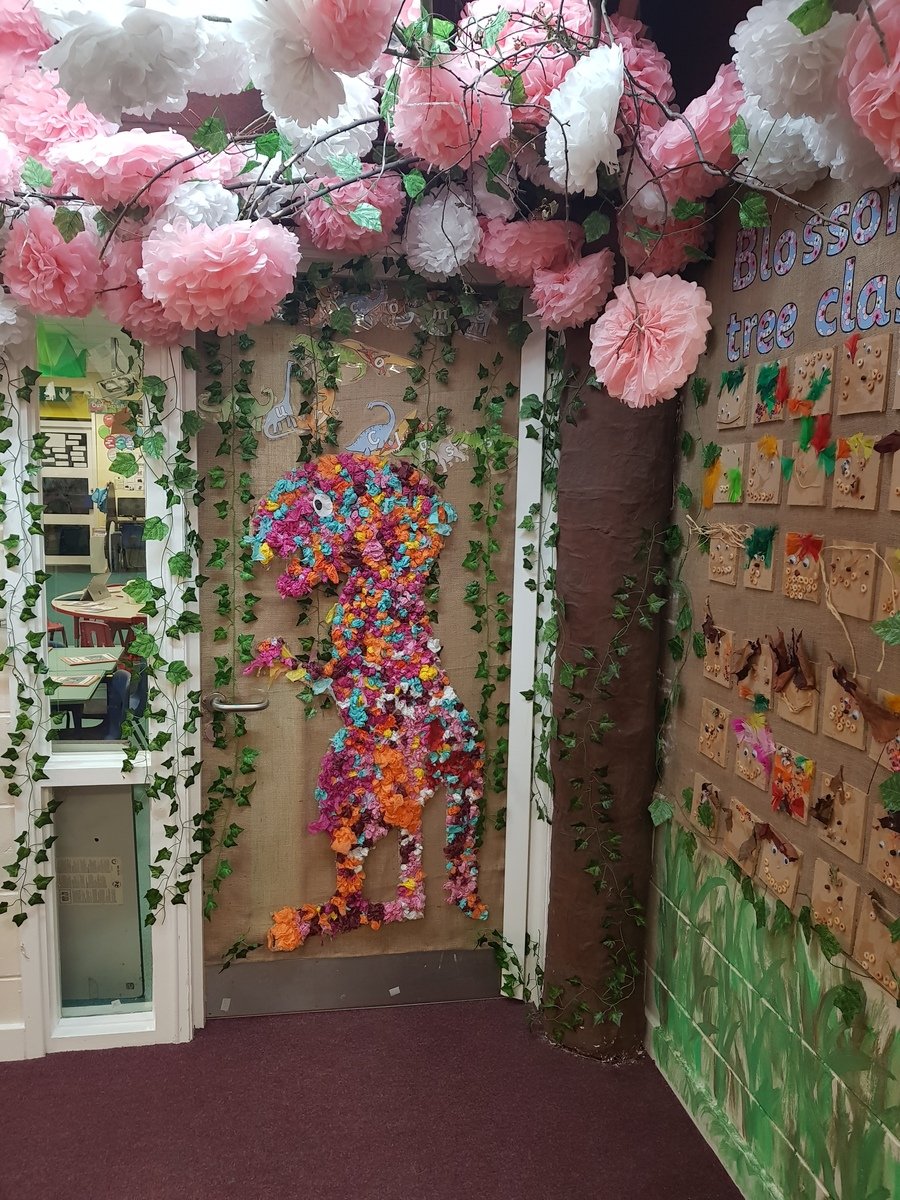 3.1.19
Over the Christmas holidays we created different art work linked to our new topic - Dinosaurs! Look at all the fabulous creations we have made. Miss Ide and the Reception Team were very impressed.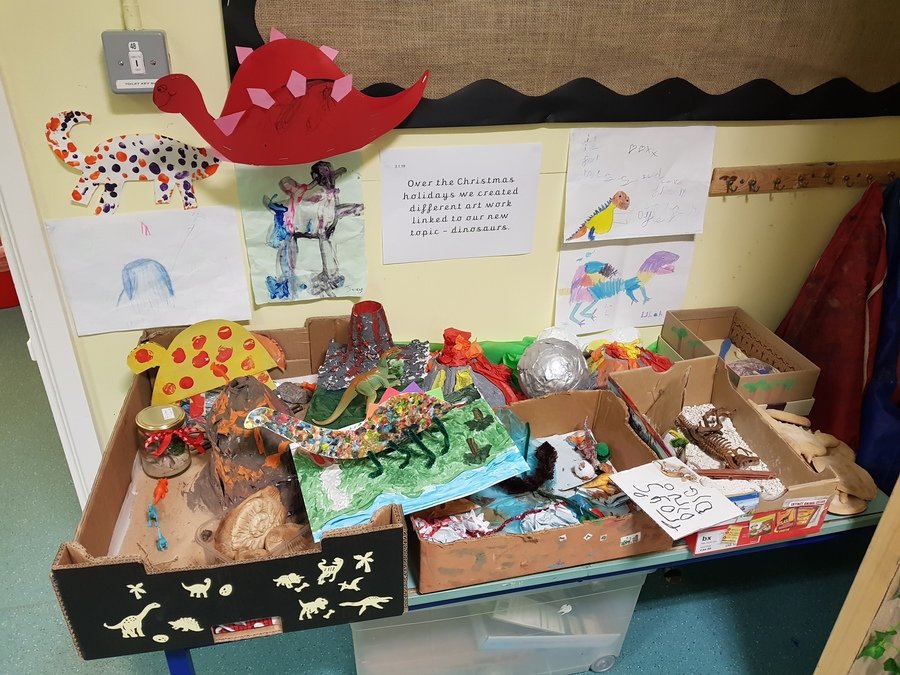 8.1.19
Our Dinosaur Visit with Graham
Today we were very lucky to be visited by Graham, the dinosaur man. We learnt lots of different facts about dinosaurs and got to see real life fossils that Graham and his wife, Sue had found. Graham also showed us a real dinosaur egg fossil and we all got a go at holding it. We had a fantastic morning and learnt so much.
DID YOU KNOW... a triceratops was 9 meters long when fully grown!
Our Autumn term topic was
Traditional Tales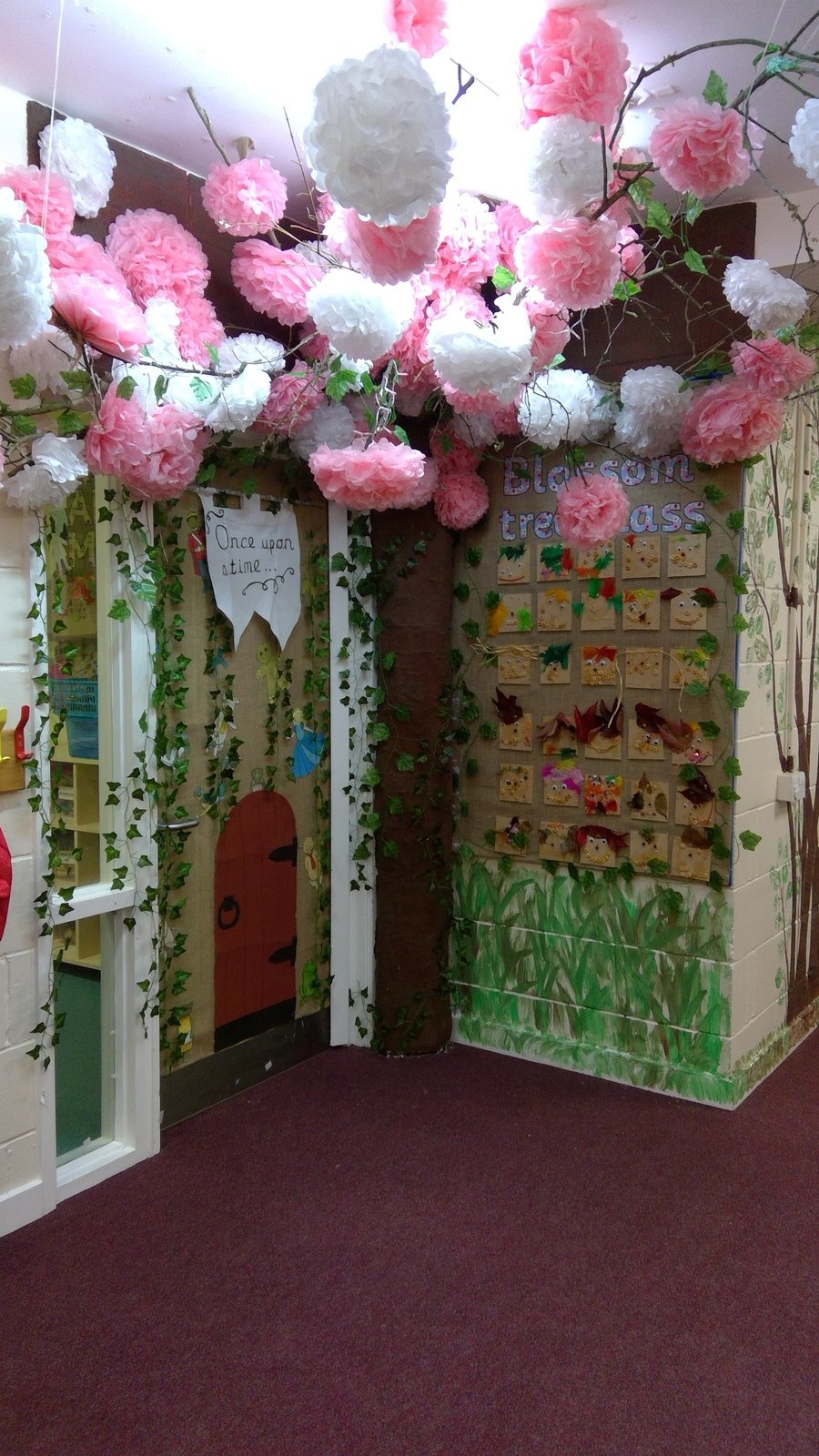 Fairy Tale Experience Day 9.11.18
We have had a fantastic Fairy Tale Experience Day. We made fairy cakes, became scientists and made fairy potions and went on a character hunt, using a map to find the clues. We then did some Beauty and the Beast dancing in the hall. In the afternoon we got to decorate our cakes and watch Cinderella 2. We had a fantastic day and all looked amazing.
Remembrance Day 2.11.18
Today we talked about why we have Remembrance Day and watched a video on Cbeebies to help us understand. We then created poppies using paint and cupcake cases and turned them into a wreath. Miss Ide was very proud of us.
Our Stick Man display 17.09.18
After reading Stick Man the children went on a hunt around the school field for resources to make our very own Stick Man. We found leaves, sticks and berries. We then used our creative skills to wrap string and tapes around the sticks to make Stick Man's body. The children were very creative.
Video links to support your child's learning.